ZANIMLJIVO





• Curriculum gloriae • Burne Hogarth, 1911-1996.

Burne Hogarth,
selfportrait
This text is adapted from several essays and writings about this extraordinary man, cartoonist, teacher, and artist altogether.

n the course of a truly remarkable career spanning some sixty-odd years, Burne Hogarth was worn many hats in the worlds of art, art education, and art publishing. Although he was from the beginning a popular success, critical acclaim was a long time coming. Thankfully, he has now taken his place among the important artists in the twentieth century.

Burne is most famous for his internationally syndicated Sunday color page Tarzan (1937-50), but is probably most revered for his contributions to art education. Through his books on drawing and hands-on teaching, he has touched the lives of countless thousands of art students. I truly believe that he is one of the most influental figures in art education today.

In the late fifties, I was just starting out a career in illustration and was teaching my first class at the School of Visual Arts in New York. I had graduated from Art Center College of Design the previous year, and although I had experienced immediate success as an illustrator, I was far from sure of myself in the role of teacher.

Burne Hogarth was teaching in a classroom next to me and I couldn't help but overhear most of his lectures. Hogarth has a awesome energy level and is not a quiet man. He illustrated his lectures with giant anatomical drawings done on the spot from memory in an extraordinary and unique style of his own invention. I had never seen anyone so clearly define the human form before.

Needless to say, I learned a great deal about teaching from this experience and I believe that Burne's commitment and enthusiasm inspired me to take up a second career in education which continues to this day.


Dynamic Anatomy,
by Burne Hogarth
When I returned to California many years later to chair the illustration department at Art Center, the main thing that I felt was missing was Burne Hogarth. Burne was such a confirmed New Yorker, it never occured to me that I could lure him to California. Happily, sometimes things work out. Burne did move to California and did join our faculty. He is a constant source of inspiration to the department and I feel honored to have been asked to write this."

Written in 1992 by Philip Hays,
Chairman, Illustration Department, Art Center College of Design, Pasadena


The Artist And His Opus
Burne Hogarth was one of the founders of the School of Visual Arts in New York City, where he served as Coordinator of Curriculum, Design and Art History.

His famed lecture demonstrations of anatomy and drawing provided the material for his books, including 'Dynamic anatomy', 'Dynamic Figure Drawing', 'Dynamic Light and Shade', 'Drawing the Human Head', 'Drawing Dynamic Hand', and 'Dynamic Wrinkles and Drapery', all published by Watson-Guptill Publications.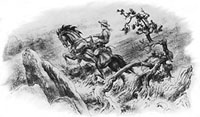 Dynamic Light and Shade, by Burne Hogarth
| | |
| --- | --- |
| From Tarzan, by Burne Hogarth | Hogarth received his education and art background in Chicago, where he started a diversified professional career that embraces over fifty years of experience in art education, |
fine art, illustration, advertising, and newspaper art. He achieved worldwide recognition with his illustrations for the Sunday newspaper comic 'Tarzan', and has since published 'Tarzan of the Apes' and 'Jungle Tales of Tarzan' in book form.

His cartoons, drawings, prints, and paintings have been exhibited at the Musee des Arts Decoratifs of the Louvre, Paris. A past president of the National Cartoonists Society (NCS) and member of its Board of Governors, Hogarth was awarded the NCS Silver Plaque Reuben for the best in illustration and advertising in 1974, 1975, and 1976.



He was also named artist of the year in 1975 at the Pavilion of Humor in Montreal, Canada.


In 1986 he received the lifetime Caran D'Ache Award in Lucca, Italy, and in 1988 was awarded the Lauriers D'Or by the Cesar Society in Paris.


In May 1989 Hogarth was awarded the Premio Especial by the Seventh International Salon of Humor in Barcelona, Spain, and he received the Grandmaster of Comic Art Bronze Trophy prize at the German Comics Fair in Cologne in 1990.

Burne Hogarth taught analythical figure drawing at the Art Center College of Design in Pasadena, California, and made his home in Los Angeles. He died on 28th January 1996 in Paris, France.




Taken from Dynamic Wrinkles and Drapery book by Burne Hogarth,
published by Watson-Guptill Publications.